Sunday, August 17, 2008
by Unknown at 2:25 PM
Beach volleyball got a popularity boost during the 2004 Athens Olympics, no doubt in part to the dramatic finish, what with Misty May and Kerri Walsh smacking each other's ass and rolling around on the sand in their bikinis -- an iconic image of the Games, as crazy as it may sound.

But how popular is beach volleyball, really? Let's check Google Trends to see the volume of searches for "beach volleyball", which we can basically equate to active interest in the sport.


Worldwide Search Volume of "beach volleyball"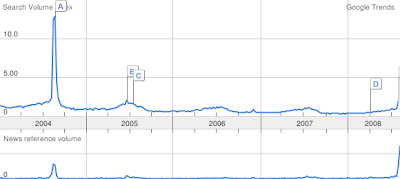 Wow, look at that traffic spike during the 2004 Olympics! You can also see that the mention of
beach volleyball
in the news is significantly higher this year. [The Y-axis value is actually the number of searches relative to the average. So during that first spike, traffic was 13x the average for the 5-year period.]
Now that's all well and good, but as Edward Tufte says, information isn't useful until you have
something to compare it to
. So let's look at how
beach volleyball
stacks up against some other sports.
Beach Volleyball vs. Michael Phelps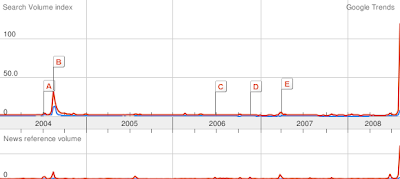 Ok, maybe not the fairest comparison. Phelps is superhuman, an outlier on the search terrain.
Let's start with a more appropriate comparison. How about another Olympic sport that is fairly obscure?
Beach Volleyball vs. Table Tennis

Ouch! Apart from the Olympics, table tennis is 2.6x more popular, according to Google. And that's the proper term, "table tennis", not the more common, "ping pong".
Well, surely beach volleyball is more popular than ping pong's cousin, badminton.
Beach Volleyball vs. Badminton

What the ...? Badminton enjoys a 5.2x lead over beach volleyball. Turns out it's a pretty popular sport outside of the U.S..
Handball! Surely handball, a simplistic game that involves little skill to play, must be less popular than beach volleyball.
Beach Volleyball vs. Handball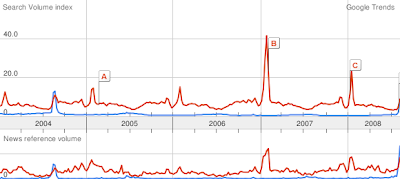 Foiled again! Handball, too, enjoys an inexplicable popularity abroad, especially among the Germans. Weird.
Ok, let's try something really obscure.
Beach Volleyball vs. Water Polo

At last! A comparable sport. They are similar in search and news popularity. You have to wonder, though, if water polo might edge out beach volleyball if they showed the entire women's matches from the underwater perspective.
And now for the fatal blow ...
Beach Volleyball vs. Synchronized Swimming

Bam! In your face, synchronized swimming! Beach volleyball destroys it with 11x more popularity.
Now, before beach volleyball starts getting an ego, take a look at how it compares to some of the most popular sports.
Beach Volleyball vs. Soccer vs. Golf vs. Football vs. Basketball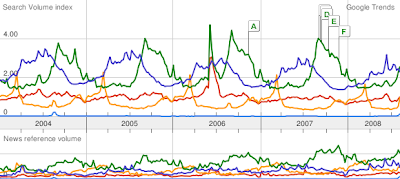 That blue line at the very bottom? Beach volleyball. Yikes.
It barely registers, nor does it ever surpass the other sports, even during the Olympics. The Misty-Kerri gold medal moment is utterly dwarfed even by basketball. (Of course, the results for the term "football" are skewed because that's what they call soccer abroad. But we still know it's considered the most popular sport in the world.)
Conclusions
So, what does this fairly unscientific investigation tell us?
Watching girls in bikinis hug and roll around is incredibly popular, at least every four years.
Unless they start playing beach volleyball in the nude, it's got a long way to go to catch up in popularity to other obscure sports, let alone the popular ones.
Subscribe to:
Post Comments (Atom)
Contact

Archive
Labels